SCIENCE FICTION NOVELS | OTHER WORKS | SHORT STORIES

---
"One of the few acknowledged humorists in SF, and by far the funniest, Sheckley plays with myths the way Mel Brooks plays with classic movies."
-New York Times Book Review

---
THE SHORT STORY COLLECTIONS
---
"Sheckley has a very vivid and at times wild imagination, but his characters are shrewd and clever, and his writing is really fine. If you like something really unusual, whether or not you care for science fiction, you would thoroughly enjoy this book."-DERBY LINE, VERMONT

"These thirteen tales, untouched even by the hands of anthologists, may remind some of you of the brightest days of 'Unknown Worlds,' and others of Shirley Jackson or John Collier. Some are interplanetary, some supernatural; some chilling, some comic. All are delightfully fresh in concept, development and writing..."
-H. H. HOLMES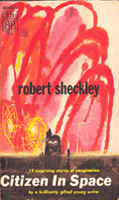 CITIZEN IN SPACE, Sheckley's second collection, presents eleven stories and a novelette-one of which appears here for the first time. If you have never read a Sheckley story you will discover the magic of a unique imagination. If you have met Sheckley before, you will know that the promise of his first book is now amply fulfilled.

"No one in recent years has vaulted so promptly into the first rank of science fantasy writers...a wholly individual new talent."
-New York Herald Tribune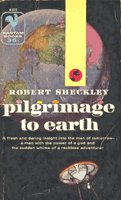 THE SCIENCE FICTION OF ONE MINUTE
IS THE NON-FICTION OF THE NEXT
And Robert Sheckley lives that one illuminating minute ahead of the rest of us. He knows the future intimately-from the trouble with a super-powered ship with its own moral views on proper destinations, to the lowdown on the inter-planetary mail-order-bride business. Sheckley is an exciting young talent-an extrapolating philosopher let loose in time and the galaxy. He is sometimes funny, sometimes bloodcurdling, always a little disquieting.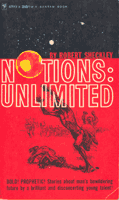 BOLD! PROPHETIC! Stories about man's bewildering
future by a brilliant and disconcerting young talent!
Every instant a tiny bit of today is combusting into a tiny bit of tomorrow. Robert Sheckley knows this. He watches these little changes. He learned that people can be wired for spontaneous romance, that machines can intercept murderers before the thought even crystallizes, that it will be possible to take a vacation in the century of your choice.
THINK HE'S WRONG? THEN YOU'D BETTER READ THESE STORIES!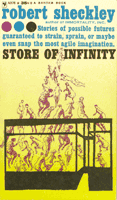 Stories of possible futures guaranteed to strain, sprain, or maybe even snap the most agile imagination.
ONE NEUROTIC AMOEBA casually placed can alter the entire course of world history. Robert Sheckley says it's like that tiny pebble that sends ripples to the edge of the lake. And since Sheckley figures absolutely anything can happen, the possible futures he envisions romp buoyantly all the way from wretched to raucous. If you balk and boggle at some of these predictions, think of it this way:
THE FUTURE WON'T JUST HAPPEN-IT WILL SNEAK UP ON YOU A LITTLE AT A TIME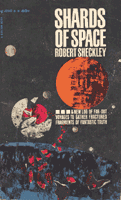 RUPTURED GALAXIES, BUSTED TECHNOLOGIES, FRANGIBLE PLANETS, INFINITE FRAGMENTS
It takes the courage of a Sheckley to project himself and his astral grappling hook far beyond the loneliest frontiers of human ken. He brings back a rich cargo of bits and pieces for your pleasure, amazement, information-
Now, you, too, may feel, sense, taste, smell, hear, apprehend the bountiful treasure trove of golden shards that float in the cold fastnesses of space...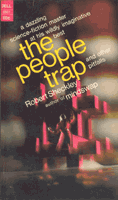 Pick your planet. Your galaxy. Your universe. And let Robert Sheckley, that master of science fiction of the sixties, be your guide. You may find yourself in a world where people are so numerous that life is a vicious battle for breathing space. Or in a place inhabited exclusively by creatures straight out of a Disney Technicolor movie. Or among a race of beings whose greatest dream is their own violent deaths. Or in a terrifying emptiness where the mind alone creates its strange realities. These are but a few of the startling stops in this fantastic voyage to the outer reaches of the imagination





In this, his latest collection of short stories, Robert Sheckley offers sixteen bizarre glimpses into the future-sixteen tales to delight, amaze and intrigue those who know as well as those not yet familiar with his work. Witty and thought-provoking, each is centered around the foibles, eccentricities and desires of some very normal people, people like your neighbors, your friends, perhaps even like yourself. The difference? The time is the future, rules of logic have been thrown to the wind, and Robert Sheckley's grasp of the human condition often leaves his readers more than a little disconcerted, amused and finally lost in thought.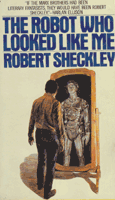 THE ROBOT WHO LOOKED LIKE ME brings a dozen of Robert Sheckley's most outrageous flights of fancy together for the first time in paperback. Inside you'll find a time traveler who multiplied himself into the millions, a beauty who outfoxed a computerized singles service, a man who was loved by inanimate objects, a pair of incredible binoculars, an actor who got caught in a never-ending western movie, and more marvelous madness from science fiction's wittiest writer. In short, it's pure, uncut Sheckley, guaranteed to blow you away with laughter.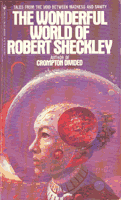 Walls made of hands in a spaceship filled with tentacles. A shooting gallery with live women for targets. A TV thrill show where the corpses are real. And a shuddering descent into laughter.
THE WONDERFUL WORLD OF ROBERT SHECKLEY
TALES BY THE GRAND MASTER OF SCIENCE FICTION.









A deft and comic writer, Robert Sheckley has long been recognized as one of America's preeminent science fiction authors. Sheckley is unquestionably at the top of his form with the short story, where he has an uncanny ability to turn the world inside out, creating a universe almost-but, disturbingly, not quite-like our own. Reading a Sheckley story is like buying a one-way ticket to a world with its own fantastic and wacky logic.






---
SCIENCE FICTION NOVELS | OTHER WORKS | SHORT STORIES

---
Site designed by kneptune.com and maintained by robertoquaglia.com